Eco-Friendly Gifts for the Festive Season This Year
The past two years of combating the pandemic have shifted our focus towards a better lifestyle, healthy eating habits, ethical gifting ideas, and more sustainable celebrations. We have realized that health and the environment go hand in hand. So, if you are also looking for sustainable gifting ideas, here is a round-up of unique eco-friendly gifts that your loved ones will adore!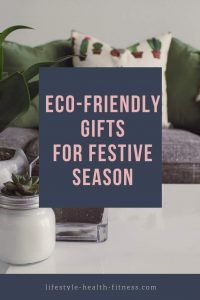 5 Amazing Eco-Friendly Gifts for the Festive Season This Year
Plantable Stationery and Prezzies
When it comes to eco-friendly gifts, the first thing that comes to mind is a plotted plant. However, there are many other ways by which you can pamper your eco-freak friends and family members. For example, people of all age groups use stationary. How about gifting stationary and prezzies that turn into a plant after use? Well, that is the idea behind plantable presents.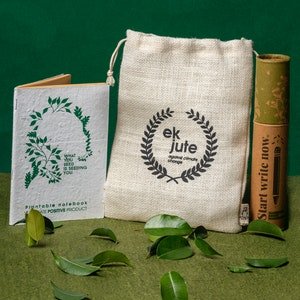 You can get multiple items in the category, from pencils and pen stands to notepads and candles. You can buy aromatic candles that come with a growing pot. So, once you have used up the candle wax, you can use the pot to grow seeds included in the purchase.
Moreover, you can also buy mud statutes with seeds inside them that can be planted as it is, whenever you want to replace them. How about gifting a holiday card that grows into lovely seedlings?
Doesn't all that sound interesting? Try some of these plantable presents this year to pamper your loved ones.
Related post- 5 Cool Ways to Celebrate Festivals Virtually
Trendy Handmade Jewelry
Ethnic is now synonymous with handmade and traditional. The new buzz in the arena of jewelry is the hand-carved and hand-crafted pieces of clay and mud. Not only do they look trendy but also uplift your overall style statement.
You can find modern, sassy designs in handmade jewelry to pair up with any attire, be it western or Indian. Pick one of these chic designer pieces for your loved ones this festive season to give them a dose of propinquity to nature.
Related Post- How to Make your Home Festive?
Zero-Waste Eco-friendly Gifts
 All the gift items in this category are crafted in such a way that not a single thing, including the wrapping material, is wasted. Further, all the gift items included in the hamper are reusable, compostable, or biodegradable. Zero-waste eco-friendly gifts are packed using handmade paper.
The inside of the boxes and packing material are often adorned with mandala art or graffiti that can be upcycled into greeting cards and bookmarks or used as craft supplies. Some zero-waste gift hampers include travel utensil sets, zero-waste food wraps, bamboo utensils, mud utensils, and stainless steel lunch tins.
Unique Artisan Gifts and DIY Gift Boxes
 Another interesting option is to buy unique hand-crafted gift items from over a hundred artisans in different craft forms. How about gifting a Macrame swing and cradle for a newborn? Macrame plant hangers for your nature lover buddies? You can also purchase Macrame curtains and wall hangings to add a BOHO vibe to your room decor.


Handmade Vivid Knit Tote Bag
How about a hand-painted bed sheet or a hand-crafted clay showpiece?  Discover innumerable choices of eco-friendly gifts in the handmade category from candles, clothing, accessories, and beyond. Further, you can also purchase DIY gift boxes to nurture the hobby of a crafty friend. The gift boxes contain all the items necessary to complete a craft.
Sustainable Cosmetics as Eco-friendly gifts

BARULAB – The Clean Vegan Mask – 10 Types AHA/BHA – $1.90
from: YesStyle.com
 A whole variety of sustainable personal care products that are non-toxic, vegan, and thoughtfully packaged can serve as an ideal gift option during festivals.


MISSHA – Talks Vegan Squeeze Pocket Sleeping Pack – 3 Types Mega Nutritious
from: YesStyle.com
From basic essentials like shampoo and toothpaste to exfoliating scrubs and rejuvenating moisturizers, you can find something for everyone you know.
Pick one of these items this season to pamper your loved ones! Purchase eco-friendly gifts to take your first step of kindness towards nature.
Must Read-
Tips for Diabetic Persons During Festival Season
References-
https://eartheasy.com/
https://india.mongabay.com/
https://www.sustainablejungle.com/
https://www.printful.com/