Treat Your Skin With Honey Skincare recipe to Seal the Moisture
It is a well-known fact that all of us cannot keep the skin we were born with. As we get older, many things happen to our skin. It loses its elasticity, develops wrinkles, skin patches, and sometimes a little flakey.
Pollution, dirt, and free radicals in the air make the skin lose its ability to retain water, making it look dry, wrinkled, and aging the person bit earlier. Strong sun rays of the midday break down the elastin which is a substance in the skin and cause the skin to sag. However, you can do a lot for your skin rather than buying a skincare product from the market by developing your own personal skincare program.
Before following any skincare program ensure that you are keeping yourself fit by exercising, having a balanced, healthy diet that contains fresh fruits and lightly cooked vegetables, and regular sleep. Antioxidants present in the fruits and vegetables help your skin protect itself from day to day living.
Adopt a natural skincare program that helps to affect how your skin looks. Make honey your favorite one for your beauty regimen due to its ultimate natural all-around healing potion. Honey in its purest form is suitable for all types of skin and can be used for a radiant complexion.
Honey has natural hydrating and antioxidant properties that trap and seal the moisture, rejuvenate the skin and clean the complexion making it soft and supple. You can prepare a simple skincare recipe with honey for baths, facial and body scrubs, face masks, moisturizers, face creams, etc.
Use of honey for dry skin:
Nourishing facial mask:
You can prepare a homemade facemask for dry skin by mixing 10ml honey with a yolk of an egg and 5ml of dried milk powder. The yolk of an egg will provide nourishment for the skin while the honey will help restore the pH balance.
Mix the ingredients in a bowl and apply to the face using a flat wide brush. Avoid the eye and lip areas. Clean off with water after 15-20 minutes to find more supple skin that will be hydrated and look much younger.
Skincare recipe for dry skin:
Mix one teaspoon of honey with one teaspoon vegetable oil and ¼tea spoon of lemon juice. Pat it on dry skin area and leave it for 10 minutes and rinse with water.
Skin Enriching Mask:
Ingredients:
1 tablespoon honey
1 egg yolk
1/2 teaspoon olive oil
1 tablespoon yogurt
Mix all the ingredients to form a smooth paste. Honey will heal, stimulate, and smooth the skin, egg yolk and olive oil will penetrate the skin to moisturize it. The yogurt will gently exfoliate and cleanse while refining and tightening pores.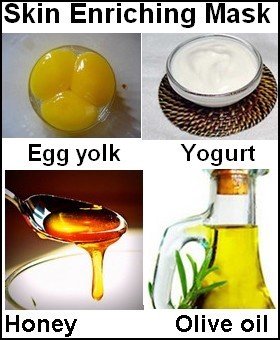 Age-Defying Facial Mask:
Ingredients for skincare recipe:
1 teaspoon of honey
Few drops of orange juice
Mix both the ingredients and stir properly. This recipe is beneficial for mature skin to look younger and regular use of this mixture will help in reducing the fine lines. Apply this mixture all over your face and leave it for 20 minutes. Thereafter wash your face with warm water and pat dry.
Moisturizing Mask:
Ingredients:
I teaspoon honey
I egg yolk
½ teaspoon almond oil
1 teaspoon yogurt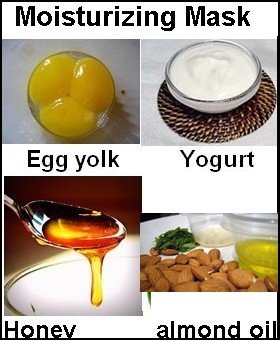 Mix all the ingredients properly and apply them to your face, neck, and other parts of your body. Leave for 15-20 minutes and rinse with Luke warm water. The mask will moisturize and polish your skin and tighten the pores.
Honey almond scrub:
Ingredients:
1 tablespoon of honey
2 tablespoons of finely ground almonds
3 tablespoons of fresh orange juice
2 teaspoons of  olive oil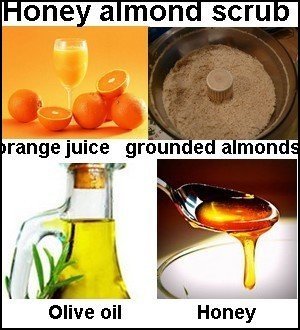 Mix well together and massage into the skin and rinse with warm water. This recipe will work as a scrub to remove the impurities from the skin.
Skincare recipe for silky and smooth skin
Ingredients:
The ¼ cup of honey
3 teaspoons of rosewater.
Mix well and massage the recipe to face and neck-saving sensitive area around your eyes. Rinse with Luke warm water.
Cleansing of pore:
Open the pores on your face place the cloth dipped in warm water. Put the honey on your face for 20-30 minutes. Now rinse the face with Luke's warm water then with cold water to close the pore.
For soft and supple skin:
Mix a ¼ cup of honey in your bathtub to keep your skin soft and supple.
To get more information about homemade recipes for cleansing, exfoliating, moisturizing, face mask and maintaining healthy younger-looking skin—
Must read the health benefits of Honey:
Health Benefits of Honey and Cinnamon