Why Are Heart Attacks Among Youth Growing? Know everything!
Youth today are at high risk of heart attacks – True or False? This is true. It may surprise you but approx. 25,000 deaths in India, in the last 4 years are caused by heart attacks. As per ABP Live, 70% of heart attack deaths in India last year 2021 occurred in the 30-60 age group.
It should be highlighted that young heart attack victims are more likely to be smokers. Along with this, they are fast food eaters, obese, and have high blood pressure or diabetes compared to others.
There are lots of examples, including – Big Boss 13 winner and actor Siddharth Shukla and Kannada superstar Puneeth Rajkumar have died due to a heart attack at a very young age. Heart attacks among youth is increasing day by day and what it causes – the stress? Almost all often suffer from some level of stress in their lives, from mild to severe and overwhelming, but it is not alone responsible for heart attacks.

QardioArm Wireless Smart Blood Pressure Monitor and QardioSpO2 Pulse Oximeter
Heart Attacks are common, and can be fatal but also preventable. It is said that heart attacks have become so prevalent in young people aged 25-40 years due to unhealthy lifestyles, not just family history. Sudden cardiac arrest or unexpected ending of all heart activity means death.
When breathing and blood flow stop working, in no time, any person becomes unconscious and dies. If you don't want to be a victim of a heart attack, knowing this problem entirely is important.
What Is a Heart Attack?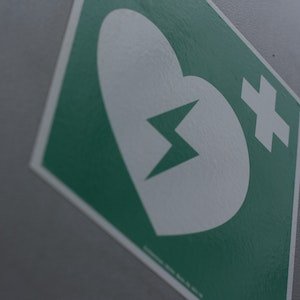 This is an acute condition where blood flow is blocked and never reaches the heart, leading to a medical emergency. This is usually the result of coronary artery disease. Blood carries oxygen with it, but once it doesn't reach the heart, the muscles begin to die and the heart stops working.
If in case pain starts after some physical exertion, it could be a heart attack. It is important to note that heart attacks can happen to anyone – but the risk is especially high when genetics come into play and if the lifestyle is poor.
What Can Cause Sudden Cardiac Death in Young People?
Young people will always be at risk for heart problems, due to the following reasons-
– Excessive amount of abusive substance use growth
-Poor diet or fast food
-Obesity
–High Blood Pressure or Hypertension
-Diabetes
-High Cholesterol
-Smoking and tobacco consumption
-No active lifestyle or lack of exercise
– Family history of cardiovascular disease
Additionally, those who are carrying extra weight place a high demand on their heart, which means they are likely to have a heart attack even if they feel healthy. Stress and tension are also the biggest risk factors for cardiovascular disease.
Moreover, hypertension is rising faster in young adults than in older adults, which makes heart muscles thicken, damages blood vessels, and increases the risk of a heart attack.

QardioArm Wireless Blood Pressure Monitor + QardioBase Wi-Fi Smart Scale Bundle (Volcanic Black + Arctic White)
The Common Signs of a Heart Attack
The symptoms of heart attacks among youth and others are a lot and they vary from person to person. Not all people have the same symptoms, some feel mild, and others may experience severe or strong symptoms. Here are a few of them-
-Mild to severe pressure in the chest or arms spreading to the neck, back, or jaw
– Breathing difficulty
– Dizziness and fatigue
-Abdominal pain, nausea, and indigestion
– Cold sweat
Is Every Chest Pain A Heart Attack?
No! Every chest pain is not a heart attack as chest pain may cause due to other factors.  Gastritis, muscle growth, pneumonia, hormonal changes, injury, or even trauma may lead to chest pain. But, if any person experiences chest pain related to a heart attack, it usually develops in the center of the chest and may come and go. This is not a kind of sharp pain, but it feels like pressure or squeezing up the muscles.
Myths Related to Heart problems in Women
What To Do If Experiencing Chest Pain?
Never ignore any type of chest pain and immediately see the doctor. If your chest pain lasts longer than 10 minutes even after taking rest or having medication, call or visit the closest medical center. Also if, the chest pain comes and goes, see your healthcare provider as soon as possible to find out what's causing the pain.
Certain remedies one can try to settle down the chest pain by consuming- Turmeric milk, Garlic, Ginger, Aspirin, Apple cider Vinegar, and hot drinks. Also, a person should lie down on the bed in a comfortable position with an elevated head.
How To Avoid Heart Attacks?
Prevention is better than cure and this is something you better know. The dramatic rise of young adults having heart attacks is because of their lifestyles and that needs to change.
This is a time when everyone should take their health seriously; hence an aggressive approach is needed. Heart attacks among youth are going to keep climbing if they don't take prevention. However, keeping a lifestyle active, healthy, and happy is something very important.
A healthy and balanced life can make your heart happy, which helps in mitigating the risk of a heart attack. Adapt healthy heart habits, including:
-Healthy and heart-friendly diet
-Reduce consuming fast food and processed food
-Optimum exercise routine and good physical activity
-Reduction in alcohol, and tobacco consumption
-Time to time health check-ups are a must
-Do meditation to alleviate stress levels
-Stay up to date with the signs and symptoms of heart disease
Conclusion:
Not enough young people take their health issues seriously, but they should understand ignoring these issues may push them into the well of death. Any heart attacks are preventable if they act seriously and sincerely go with the lifestyle changes. If needed, taking medications as per the doctor's advice can protect one's life. Heart Attacks among youth is totally avoidable if one follows the above information.
SOURCES:
https://www.mayoclinic.org/first-aid/first-aid-chest-pain/basics/art-20056705
https://www.webmd.com/heart-disease/treat-chest-pains-at-home
https://www.medicalnewstoday.com/articles/321133#causes
https://my.clevelandclinic.org/health/symptoms/21209-chest-pain#:~:text=Call%20911%20or%20have%20someone,sign%20of%20a%20heart%20attack.
https://news.abplive.com/science/world-heart-day-2022-70-of-heart-attack-deaths-last-year-occurred-in-30-60-age-group-1555818#:~:text=60%20Age%20Group-,World%20Heart%20Day%202022%3A%2070%25%20Of%20Heart%20Attack%20Deaths%20In,In%2030%2D60%20Age%20Group
Related Post-