Does YouTheory Fat Burner Actually Work? (Review and Breakdown)
What Is YouTheory Fat Burner | YouTheory Fat Burner Ingredients | Benefits | How Does It Work | Reviews | Similar To YouTheory Far Burner | Warnings And Side Effects | Disclaimer
What do you look for in a fat burner? More often when searching for the right fat burner, we lean into the customer reviews, see what's trending, and stick to what we can feel working. But, that doesn't mean it actually works. In this post, we're going over a newly trending fat burner, YouTheory Daily Fat Burner. Here, you'll find answers to what it is, what's in it, and more!
What Is YouTheory Fat Burner?
As the name suggest, this is a fat burner product. But, unlike many of the popular fat burners we review, the Daily Fat Burner from YouTheory is a low-stim, thermogenic fat burner. Unfortunately, the only energy source of this fat burner is hidden away in a proprietary blend, so we can't determine exactly how low the dosage is. But, in comparison to other popular thermogenic fat burners like Lipodrene with Ephedra, Hellfire Fat Burner, or EPH 100—it's low.
YouTheory Fat Burner Ingredients:
Chromium:
When you look at the formula, the first ingredient listed is Chromium, which is an essential trace mineral. Chromium Picolinate has mixed feedback from researchers in regards to weight loss. While there may be some evidence of it aiding in reducing appetite and cravings (1), overall research on the impact of chromium in weight loss is questionable. (2) However, this ingredient may be beneficial in improving blood sugar levels. (3)
---
Sinetrol® Citrus Fruit Blend:
This patented proprietary blend features extracts from a variety of citrus fruits, including Blood Orange, Grapefruit, and Sweet Orange. The bioactive polyphenols that come from these fruits include naringin, hesperidin, and neo-hesperidin. These bioflavonoids may aid in the lipolytic properties and bioavailability from the citrus extracts. (4) In addition to these properties, citrus extracts may assist with reducing blood pressure through their antioxidant and anti-inflammatory properties and support blood sugar level control. (5,6,7,8,9)
The Sinetrol® blend also features Guarana Extract, which is the only stimulant in this formula. It has it's own set of benefits such as aiding in fatigue relief and improving focus, but it is also typically standardized for caffeine. So you're getting the fat burning effects through this mechanism and Guarana may aid in weight loss by boosting your metabolism. (10,11,12)
---
Capsimax® Cayenne:
Our final ingredient in YouTheory Daily Fat Burner is a popular thermogenic, Capsimax®. This patented ingredient is popular in specifically thermogenic fat burners. The ingredient capsaicin is major active compound of chili pepper and cayenne peppers. Additionally, this ingredient may also support other things like inflammation reduction through it's antioxidant properties. And, as a thermogenic, capsaicin may increase energy expenditure. (13,14)
YouTheory Daily Fat Burner Benefits:
As the Daily Fat Burner is not a heavy, stimulant-based fat burner, you could expect more of an emphasis from the thermogenic properties.
As a whole this fat burner may support:
Natural-Feel Energy Boost†

Promote Lipolysis†

Enhance Thermogenesis†

Reduce Oxidative Stress And Inflammation†
How To Take YouTheory Daily Fat Burner:
The manufacturers recommend taking one (1) capsule twice daily with food.
How Does It Work?
Here, we'll dive into the science a bit more, so feel free to skip ahead.
The body uses the most common fat cell, white adipose tissue (WAT) to store fat and for whole-body energy homeostasis. Through lipolysis, WAT can release fatty acids. Sinetrol® assist with increasing resting energy expenditure resulting in adipose beiging benefits. Where the ratio between WAT and brown adipose tissue (BAT) plays a critical role in regulating the level of energy expenditure. This is done through inhibition of phosphodiesterase PDE-4. PDE-4 is the enzyme that catalyzes the hydrolysis of cyclic adenosine monophosphate (cAMP). By inhibiting PDE-4, cAMP levels increase and can increase the rate lipolysis through triglyceride breakdown. As a result energy expenditure increases. So far three clinical studies have been ran on Sinetrol®, all of which support the mechanism of action and bringing strong results on weight loss. (9,15,16,17)
It is important to note these studies lasted for a period 12 weeks and with some with a larger dosage than recommended with YouTheory Fat Burner.
Reviews: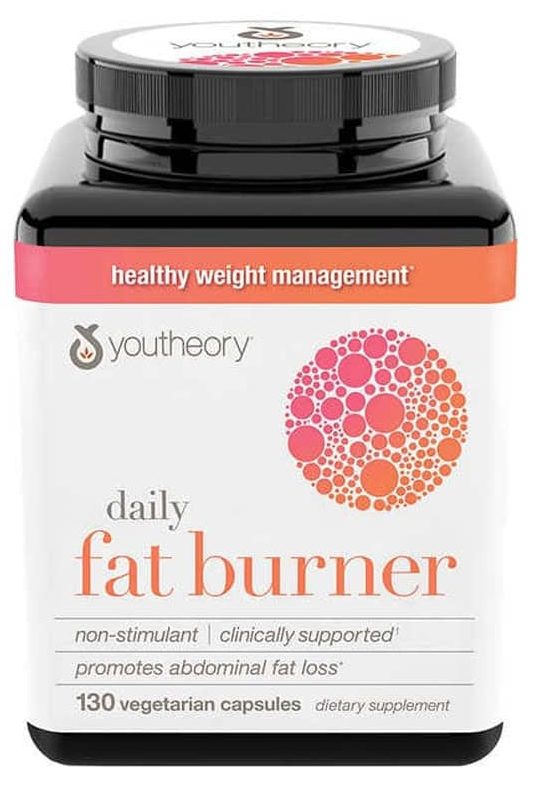 Customer Review By Aly: "I love this product! I am very sensitive to caffeine so finding a fat burner that doesn't overwhelm me has been a struggle. But, this fat burner really helps me with reducing my appetite and boosting energy!"
Customer Review By Hannah: "I was looking for a fat burner that had no caffeine, or ephedra. I found this one and haven't looked back. This works so well for me. I do not get the jitters, or a crash. Much recommended!"
Similar To YouTheory Far Burner:
In this section, we're going to dive into three products from Life Extension that are similar to YouTheory Daily Fat Burner:
---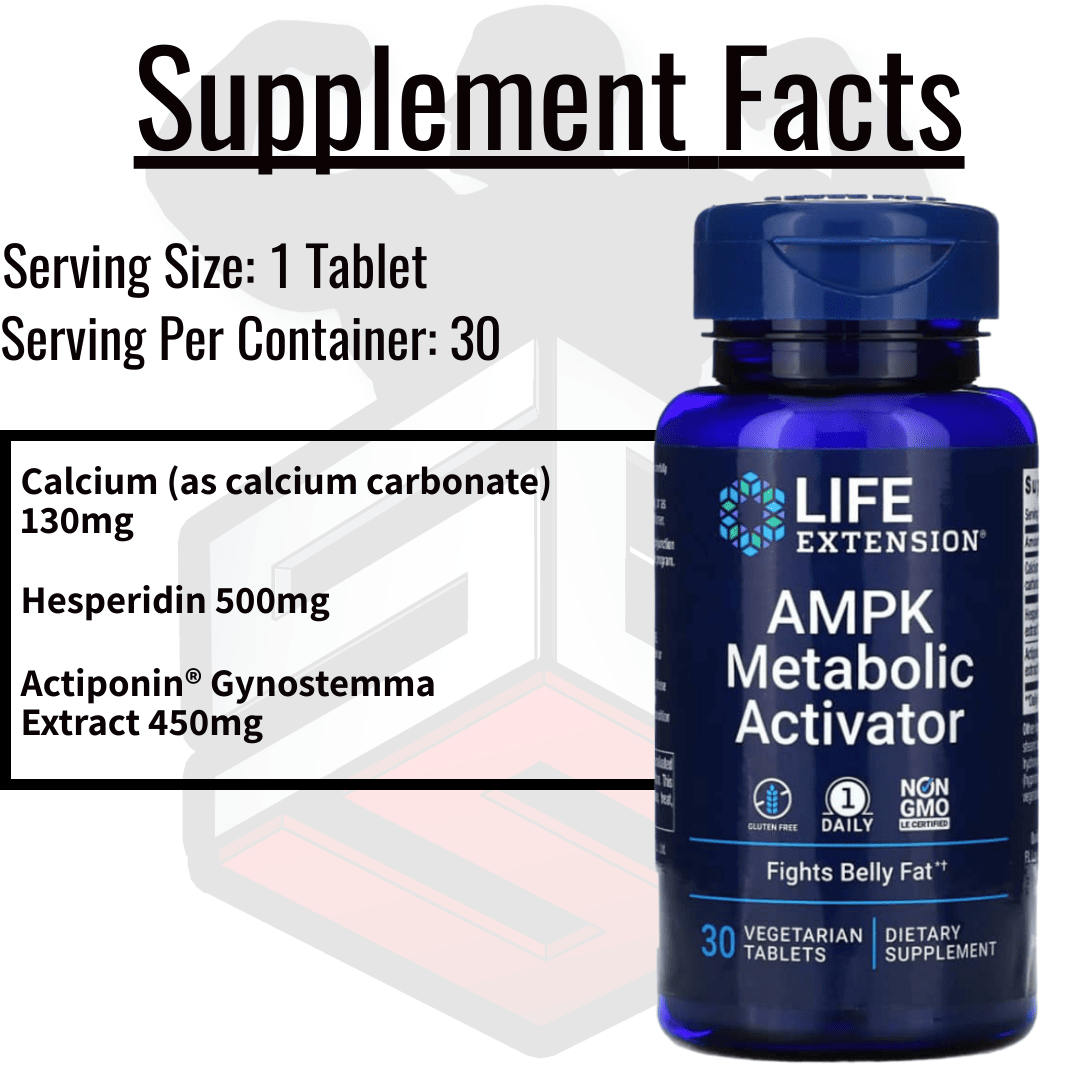 Our first product comparison is with AMPK Metabolic Activator, which features two ingredients different from YouTheory Daily Fat Burner, Calcium and Actiponin® Gynostemma Extract.  It only indirectly shares Hesperidin as this ingredient is one of the primary active compounds from Sinetrol®, along with Naringin.
Calcium:
Calcium has numerous functions, such as building and maintaining bones and teeth, blood clotting, the transmission of nerve impulses, and regulation of the heart's rhythm. But, current research also suggests that it may assist with reducing body weight. (18)
---
Hesperidin:
As you can imagine from being one of the primary active compounds in Sinetrol®, hesperidin may promote similar effects on its own. One study's results suggest a combination of 500-mg G-hesperidin and 75-mg caffeine for 12 weeks significantly reduced abdominal fat (especially subcutaneous fat), body weight and the BMI in subjects with a moderately high BMI. While other studies found hesperidin may help regulate inflammation and improve insulin resistance. (19,20,21)
---
Actiponin® Gynostemma Extract:
Similar to Sinetrol®, there are several clinical trials and studies that support Actiponin® anti-obesity effects.  Some of the physiological benefits include, reducing body fat mass, improving blood sugar and cholesterol levels, and may even support exercise performance. (22,23,24)
---
How To Take Life Extension AMPK Metabolic Activator:
The manufacturers recommend taking one (1) tablet daily, or as recommended by a healthcare practitioner.
Customer Review By Vinny: "When I first began taking this product, I noticed the appetite suppression benefits right away. The results that I have been getting from this product have been great! I have slowly been getting back into shape thanks to this product."
---
Life Extension Mediterranean Trim:
Next we have Life Extension Mediterranean Trim, which features Sinetrol® at the same dosage as the Daily Fat Burner. The only differences between these formulas is the lack of Chromium and Capsimax®. Additionally, the manufacturers indicate the value of caffeine derived from the Guarana Extract (10mg).
How To Take Life Extension Mediterranean Trim:
The manufacturers recommend taking one (1) capsule twice daily at breakfast and lunch, or as recommended by a healthcare practitioner. Each serving contains approximately 10 mg of caffeine (the amount found in about 1/4 cup of brewed green tea).
---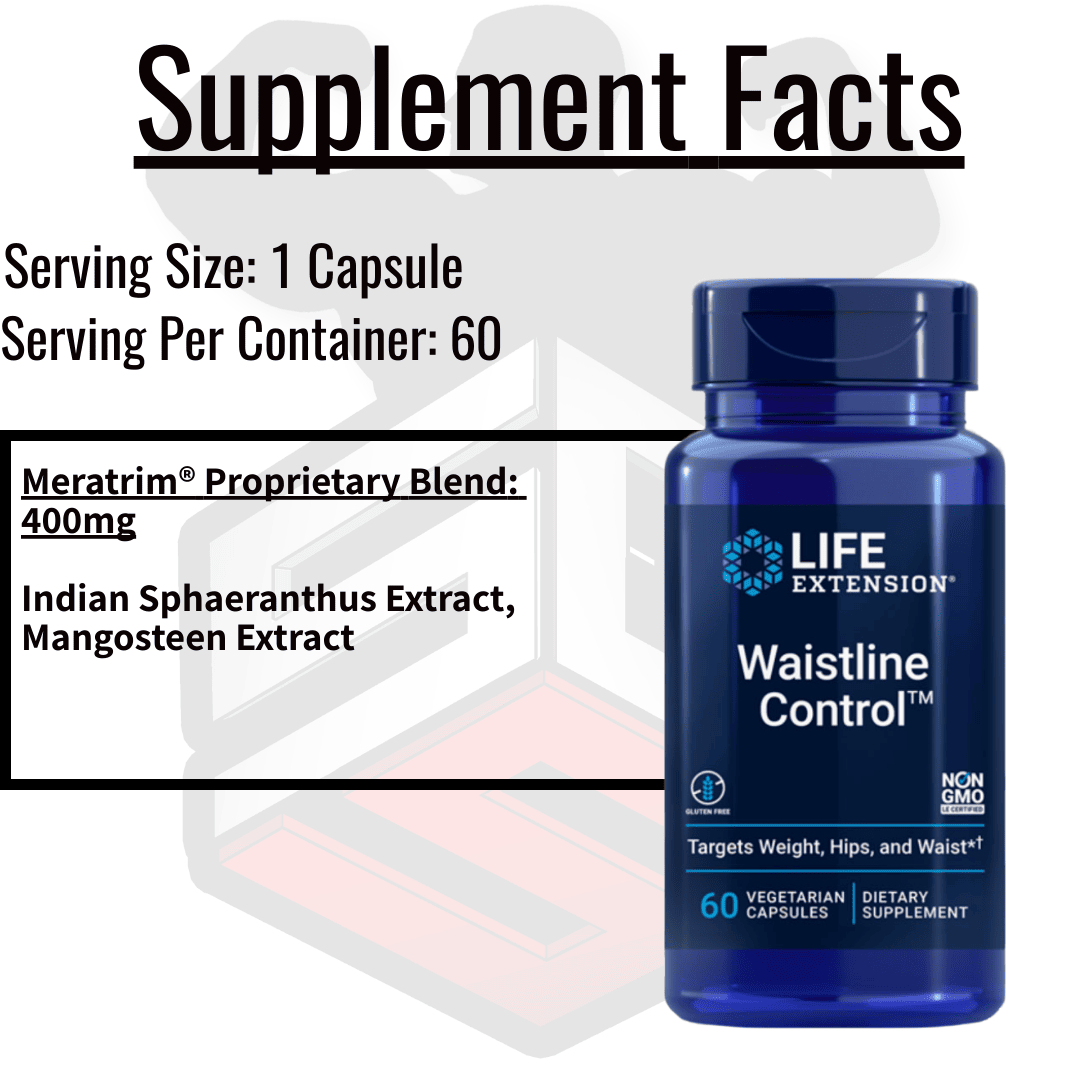 Our last similar product from Life Extension is Waistline Control™, which only features its patented proprietary blend, Meratrim®. Where Meratrim® contains two ingredients for a total of 400mg. Study's results suggest Meratrim® is effective for weight management and can improve other health markers like blood sugar and cholesterol levels. (25,26,27)
---
How To Take Life Extension Waistline Control:
The manufacturers recommend taking one (1) capsule twice daily 30 minutes before meals, or as recommended by a healthcare practitioner.
Customer Review By Quin: "Its only been a couple of weeks, but I do see a difference! I do follow a healthy diet-exercise routine, but definitely feel this is giving me an edge. Going to get another bottle!"
Wrapping Up!
And this marks the end of our post on YouTheory Daily Fat Burner. Thank you for reading! And as always, if there was something that wasn't clear, another question you might have, or if you have another idea for a blog, Email Us!
Are you looking for more to read? Check out some of our other blogs!
Warnings And Side Effects:
Check with your doctor before using this product if you are taking medication or have any medical conditions. Do not use if you are pregnant or nursing. Do not exceed the recommended daily intake. Not intended for persons under 18.
KEEP OUT OF REACH OF CHILDREN. Store in a cool and dry place after opening.
Disclaimer:
†PLEASE NOTE: The intention of the information provided is for reference only. Furthermore, we are in no way providing medical advice or instruction. Instead, the information provided in this guide/blog utilizes anecdotal information and available studies/reviews. While our goal is to maintain and display accurate information, we can't guarantee it represents the latest formulation of the product or information. Therefore, please visit the manufacturer's website if you have any concerns. Also, the information above does not represent our views here at Same Day Supplements. Instead, these are the views and information provided by the manufacturers and users. Additionally, the Food and Drug Administration has not evaluated these statements. Finally, the intention of these products is not to diagnose, treat, cure or prevent any disease or illness.
The post Does YouTheory Fat Burner Actually Work? (Review and Breakdown) appeared first on Supplement Reviews Blog.