What Is Ashwagandha Good For And Should You Be Taking It Today (Review)
What Is Ashwagandha | Benefits | Popular Products | FAQ |  Side Effects And Warnings | Disclaimer
In this post, we're covering a herb that has recently been gaining attention and curiosity, Ashwagandha. Here, you'll find answers to popular questions, like "what are the benefits of Ashwagandha?" and comparisons to other popular herbal adaptogens.
---
What Is Ashwagandha?
Ashwagandha is a natural herb that initially comes from Ayurveda. This herb comes from the class of herbs commonly known as "adaptogens." Where adaptogens can support and enhance the body's resilience to stress. While tons of adaptogens are available today, Ashwagandha or Withania Somnifera is a popular herbal product with  roots in traditional medicine. (1,2)
You may see Ashwagandha listed on labels as:

Ashwagandha Benefits:
Of the many potential benefits of Ashwagandha, one of its most recognized benefits is its anti-anxiety and stress-relieving effects. (2,3,4,5,6,7)
But, in addition to these effects, it may also help:
Most of these benefits may result from the adaptogen's potent antioxidant and anti-inflammatory properties. Furthermore, Ashwagandha contains numerous bioactive compounds, including steroidal lactones. From within these steroidal lactones are withanolides. This compound may be one of the main contributors to the benefits of this adaptogen. However, more research is necessary to understand the mechanisms of action for each benefit. (20,23,24)

Popular Products:
In this section, we'll list our popular Ashwagandha products and how to take them!
---
How To Take Swanson Ashwagandha Full Spectrum?
The manufacturers recommend taking two (2) capsules one to two times per day with water.
Customer Review By Erin: "It really works! But keep in mind it will take a few weeks to 'kick in'. I don't think I experienced any negative side effects from taking this. Overall feel more relaxed since taking it. I will continue to purchase!"
How To Take Life Extension Optimized Ashwagandha:
The manufacturers recommend taking one (1) capsule twice daily on an empty stomach, or as recommended by a healthcare practitioner.
Customer Review By Sean: " I tried a few ashwagandha products previously but I feel like this is the most potent one. Love this brand."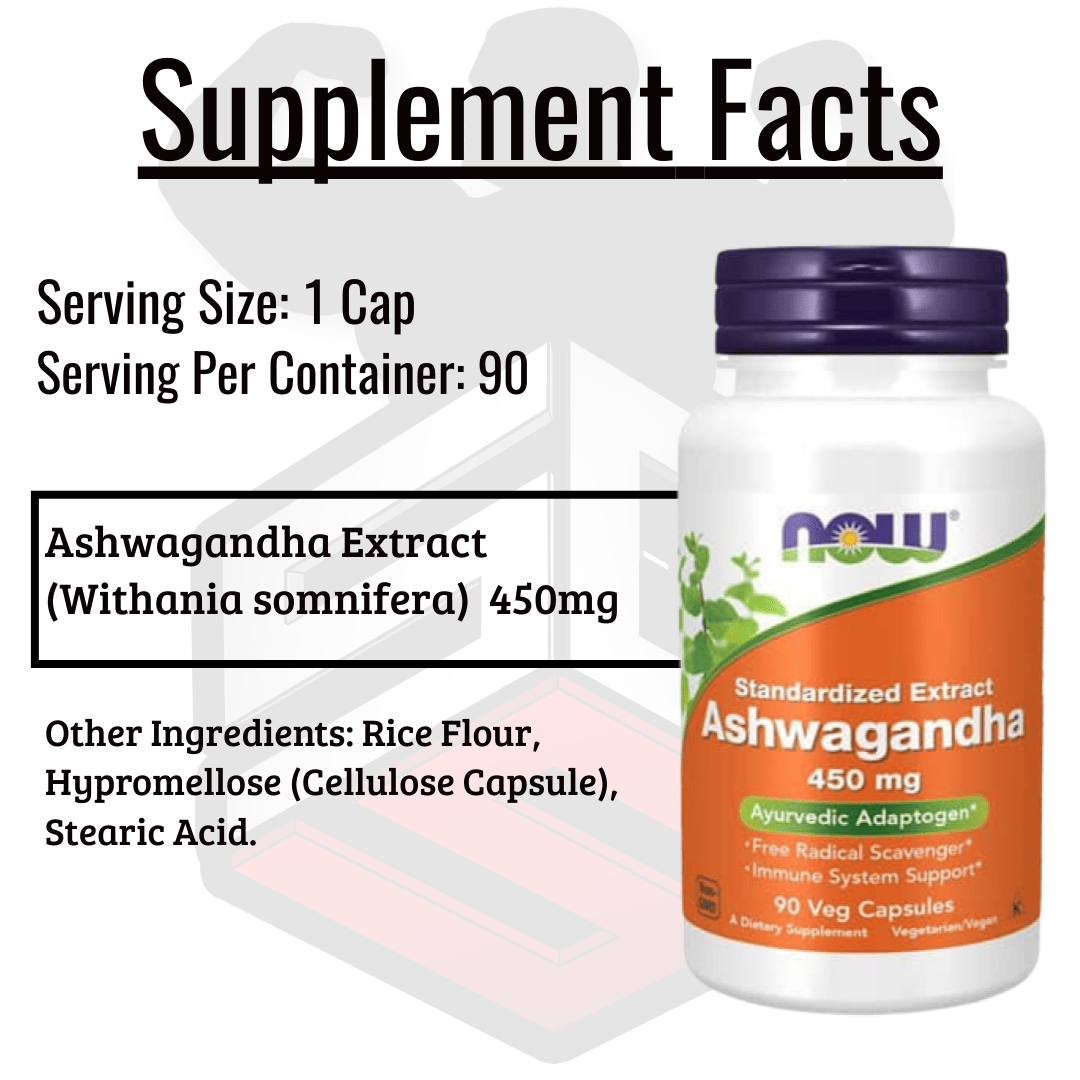 How To Take NOW Foods Ashwagandha Extract:
The manufacturers recommend one (1) capsule two to three times daily. Store in a cool, dry place after opening
Customer Review By Georgette: " I started taking ashwagandha 9 months ago to balance my hormones. I was stressed, without a menstrual cycle for over a year, had loss of energy, and hair loss. After taking for 6 months my periods became normal, my hair stopped thinning, and I found out I was pregnant with TWINS. After not being able to conceive at all because of my irregular periods, being pregnant was a huge shock."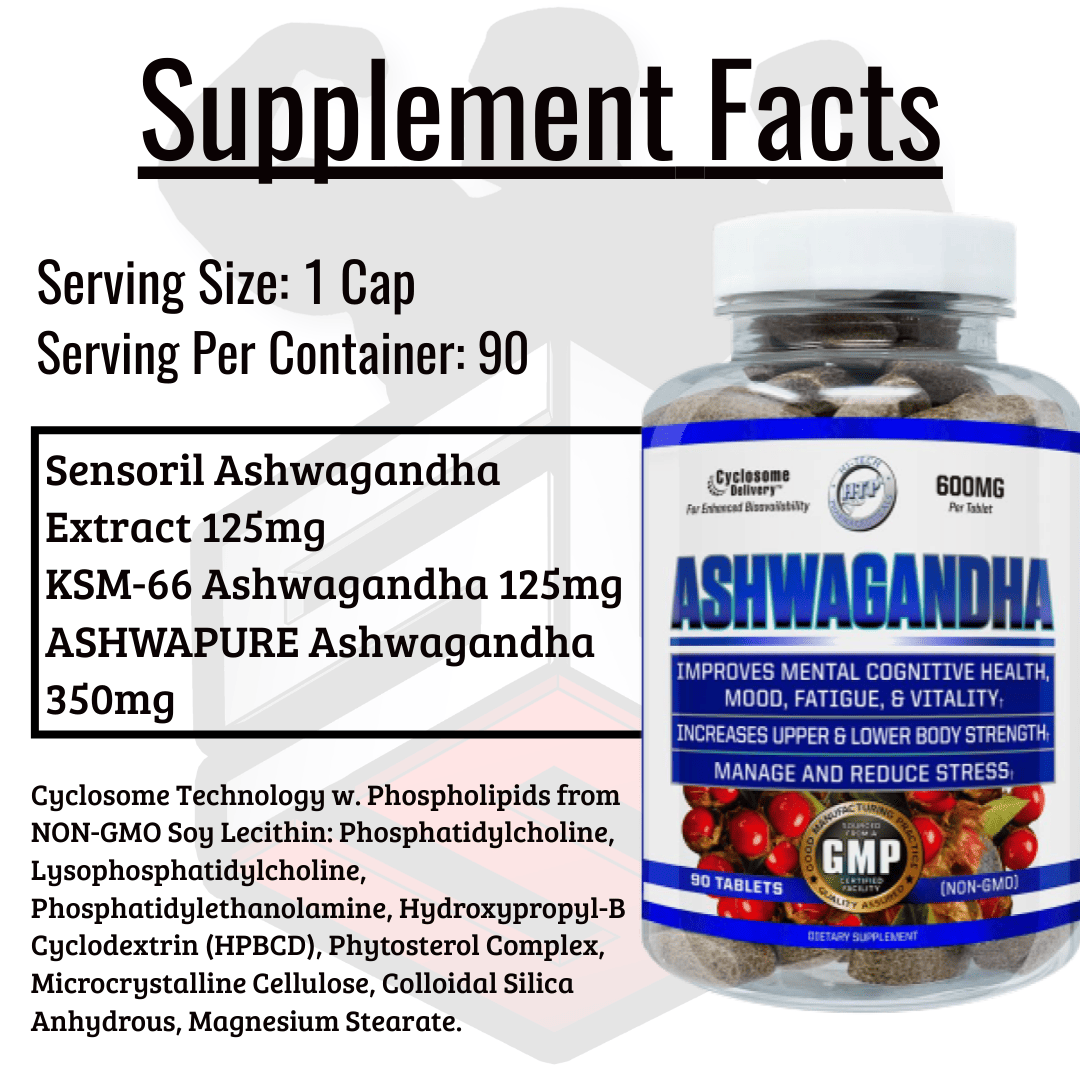 How To Take Hi-Tech Pharmaceuticals Ashwagandha:
The manufacturers recommend taking one (1) tablet twice daily on an empty stomach, or as recommended by a healthcare practitioner.
Customer Review By Carol: "I am very happy I tried this product. I feel more calm and collected since starting it and I even sleep better. Its become a staple in supplement stack."

Ashwagandha FAQs:
In this section, we'll be diving into some of your most frequently asked questions about Ashwagandha!
Are There Side Effects?
Although Ashwagandha appears safe for most users, more long-term research is necessary to evaluate its safety. Additionally, for some users, Ashwagandha may cause drowsiness and sedation. Whereas large doses may cause stomach discomfort.†
Can It Cause Weight Gain Or Bloating?
It's unlikely to cause weight gain as this adaptogen may assist with body weight management through reducing cortisol. (25) While large doses may cause stomach discomfort, it is not currently clear if Ashwagandha causes bloating.†
Ashwagandha VS Rhodiola
Like Ashwagandha, Rhodiola or Rhodiola rosea is an adaptogen.
This adaptogen may help:
Reduce Cortisol Levels†

Alleviate Fatigue†

Improve Symptoms of Depression†

Increase Cognitive Functions†

Enhance Exercise Performance†
Who Shouldn't Take It?
While it's generally safe for most people. You should consult a doctor if you pregnant or breastfeeding or on medications before taking Ashwagandha.†
How Much To Take?
Most studies on Ashwagandha use dosages of 250–600 mg of the root extract daily. These dosages can be broken up into a morning and evening dose. Some individuals may prefer to take Ashwagandha with a meal.†

Wrapping Up!  
And this marks the end of our post on Ashwagandha. Thank you for reading! And as always, if there was something that wasn't clear, another question you might have, or if you have another idea for a blog, Email Us!
Are you looking for more to read? Checkout our other blogs!

Side Effects And Warnings:
Products mentioned in this post are not intended for use by persons under 18 years of age. Keep out of the reach of children. If you are pregnant, breast feeding, have known medical conditions (including kidney or liver disease) or are taking prescription or OTC medication(s) consult with your health care practitioner before using this product.

Disclaimer:
†PLEASE NOTE: The intention of the information provided is for reference only. Furthermore, we are in no way providing medical advice or instruction. Instead, the information provided in this guide/blog utilizes anecdotal information and available studies/reviews. While our goal is to maintain and display accurate information, we can't guarantee it represents the latest formulation of the product or information. Therefore, please visit the manufacturer's website if you have any concerns. Also, the information above does not represent our views here at Same Day Supplements. Instead, these are the views and information provided by the manufacturers and users. The Food and Drug Administration has not evaluated these statements. Finally, the intention of these products is not to diagnose, treat, cure or prevent any disease or illness.
The post What Is Ashwagandha Good For And Should You Be Taking It Today (Review) appeared first on Supplement Reviews Blog.