The Ripper Fat Burner by Cobra Labs Review And Comparisons 2022
What Is The Ripper Fat Burner | Ingredients | What's Similar | Which Should You Try | Reviews | Warnings And Side Effects | Disclaimer
In the post were going over a different type of fat burner, The Ripper Fat Burner. This fat burning powder from Cobra Labs features both thermogenic ingredient along with pre workout ingredients, making it a great option for before the gym or just to get the day started. But how does it compare to the top fat burners available today? We're going over this question and more!
What Is The Ripper Fat Burner?
Well it's a fat burner in powdered form. So no popping pills all day. Take a serving or two of this and that is your fat burner supplement! So let's go right into the breakdown and talk about what's inside The Ripper.
The Ripper Fat Burner from Cobra Labs (JNX Sports) features a simple fat burning powder without the intense stimulant blends you can find in most fat burner pills. This simple formula makes it a great option for beginners that have yet to assess their stim-tolerance. Unfortunately, this formula is entirely with blends, so we aren't able to discuss the individual ingredients/dosages. Instead, we'll compare the blends as a whole. 
| | |
| --- | --- |
| Price Per Serving (USD): | $.83 |
| Key Features: | Thermogenesis†, Appetite Control†, Energy† |
| Flavors: | Pink Mango Slice, Cherry Limeade, Razor Lime, Raspberry Lemonade, Pineapple Shred |
Extreme Muscle Fuel Blend:
Up first is the Extreme Muscle Fuel Blend, which features endurance and performance enhancing ingredients like Beta Alaine. In this blend you'll also find your stimulants, Guarana Extract and Caffeine. And lastly, there is the Raspberry Ketones. This ingredient may assist with decreasing the size of fat cells by increasing fat metabolism†.(1,2,4,5,6,7)
---
Ripper Shred Matrix:
The other matrix in the The Ripper is the Ripper Shred Matrix. In this matrix, you'll see more of the thermogenic/metabolism-boosting ingredients for the blend. These ingredients include Acetyl L-Carnitine HCl, Green Tea Extract, and Cinnamon Bark Extract. Additionally, the Ripper Shred Matrix features Taurine, an amino acid, which has several functions like maintaining hydration, digestion, supporting central nervous system (CNS) functions, and even may aid in regulating your immune system. Then there are antioxidant ingredients including Green Coffee Extract, Green Tea Extract, and Olive Leaf Extract. While, being antioxidants is a benefit in itself, these ingredients may also support thermogenesis and insulin sensitivity†. (8,9,10,11,12,13,14,15)
---
How To Take The Ripper Fat Burner?
The manufacturer recommends to take about one (1) scoop mixed with 6-8 ounces of water 30 minutes before breakfast just to assess tolerance and then one additional scoop can be added later on in the day about 5/6 hours later. Try not to take it too close to bed so it doesn't interfere with sleep since it is a stimulate.
What's Similar:
In this section, we're cover some similar products to The Ripper and breakdown their formulas.
---
Our first product comparison is with LFG Burn from Das labs (Bucked Up). LFG Burn is a high-stim fat burner, pre workout. It features a fully disclosed label and includes a variety of ingredients for thermogenesis, energy/focus, and performance.†
Curious on how LFG Burn compares to Bucked Up Pre Workout? We have a blog on it!
| | |
| --- | --- |
| Price Per Serving (USD): | $1.81 |
| Shared Ingredients: | Beta Alanine, Caffeine |
| Different Ingredients: | Nitrosigine, L-BAIBA, Alpha GPC, Mucuna Pruriens Extract, AstraGin, Paradoxine, Huperzine A |
As you can see from the chart above, LFG Burn and The Ripper only have two ingredient in common; Beta Alanine and Caffeine. However, when you look at the supplement facts for LFG Burn you can you can see there is 3.2g of Beta Alanine and 300mg of Caffeine. Where the dosage of Beta Alanine meets the mark for the clinical dose range.†
Unlike in The Ripper, where the blend featuring both Beta Alanine and Caffeine (among other ingredients) is only around 2g. This difference indicates that The Ripper may not be a stimulant heavy as LFG Burn. But, if you are not a fan of the itchy-tingling sensation with pre workouts (paranesthesia), a low dose of Beta Alanine might be better for you.†
---
How To Take Das Lab's LFG Burn:
The manufacturer recommends mixing one (1) scoop of LFG Burn into 6-8oz of water 15-30 minutes before physical activity. Due to its potency, the manufacturers recommend taking no more than one (1) scoop.
---
LFG Burn Review By Andrea: "I love the taste of the berry flavor and the energy this gives me. I couldn't decide between a fat burner or pre workout and this is a happy-medium! I'm sweating more and getting a great workout. I recommend!!"
The next product comparison we have with The Ripper is Raze Heat from REPP Sports. 
| | |
| --- | --- |
| Price Per Serving (USD): | $.75 |
| Shared Ingredients: | Acetyl L-Carnitine, Taurine |
| Different Ingredients: | L-Carnitine, L-Carnitine L-Tartrate, L-Carnitine Fumarate, Betaine Anhydrous, Choline Bitartrate, L-Tyrosine, CitraFuze, GBB (Gamma-butyrobetaine ethyl ester HCl), Grains of Paradise (Paradoxine), Black Pepper Extract |
Similar to The Ripper, Raze Heat features two proprietary blends. While these products have two ingredients in common, they have one big difference. Raze Heat is stimulant free! This means that Raze Heat can be stacked with other pre workouts or fat burners.
Despite not having stimulants, you may still feel a boost in focus from the Carnitine blend, Taurine, Choline Bitartrate, and L-Tyrosine. However, this product is better suited for individuals looking for a thermogenic. Between the Carnitine blend, CitraFuze, GBB, and Grains of Paradise—Raze Heat can definitely bring the heat. Because of this, its important to stay hydrated while using Raze Heat (and all fat burners).†
---
How To Take REPP Sport's Raze Heat:
The manufacturers recommend beginners take one (1) scoop roughly 30-45 minutes before exercise with 6-8oz of water. After assessing your tolerance, REPP Sports indicates that users may take one (1) to two (2) scoops depending on the level of activity of your workout and/or exercise of the day. According to the manufacturer, for the best results with fat loss, users should take Raze Heat on an empty stomach first thing in the morning.
Caution: Consuming Raze Heat may cause heavy sweating due to its thermogenic properties. Proceed with caution and assess your tolerance.
---

Raze Heat Review By Ashley: "Pretty neat product. I sweat crazily every time I take it."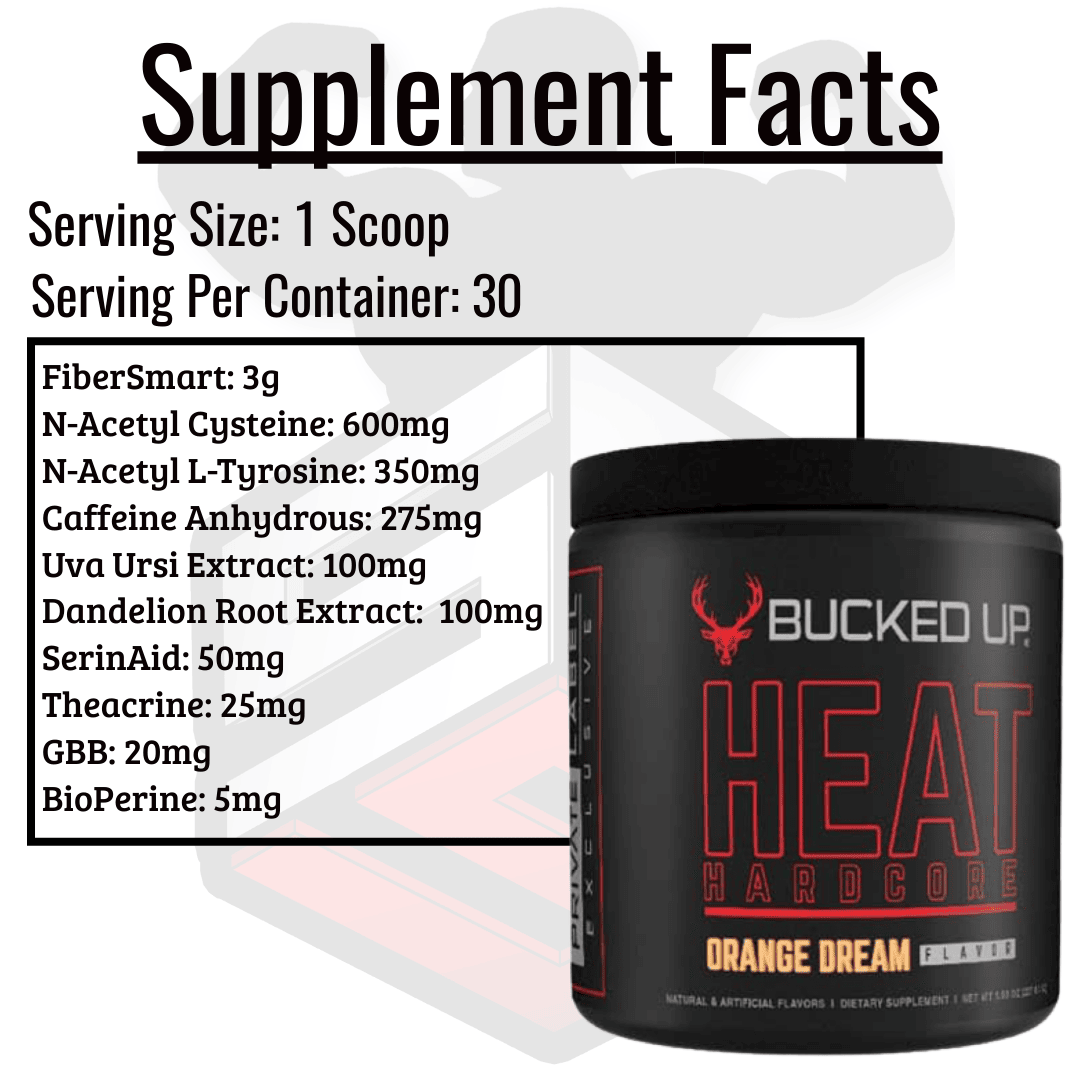 Our third product comparison is with another Das Lab's (Bucked Up) fat burner, Heat Hardcore.
| | |
| --- | --- |
| Price Per Serving (USD): | $2.00 |
| Shared Ingredients: | Caffeine, Chromium Picolinate |
| Different Ingredients: | FiberSmart, N-Acetyl Cysteine (NAC), N-Acetyl L-Tyrosine (NAT), Uva Ursi, Dandelion Root Extract, SerinAid, Theacrine, GBB, BioPerine (Black Pepper Extract) |
Heat Hardcore also shares two ingredients with The Ripper, but does offer a fully disclosed label. In comparison to The Ripper, Heat Hardcore is more of a powder fat burner rather than a pre workout. As you can see from the supplement facts, Heat Hardcore's formula features antioxidants like NAC, diuretics (Uva Ursi and Dandelion Root Extract), energy and focus aids (Caffeine, NAT, SerinAid, and Theacrine), and even an appetite suppressant and thermogenic (FiberSmart and GBB). All together making this a great option for mid-high stim tolerant individual. Similar to Raze Heat, the addition of diuretics with a thermogenic makes staying hydrated very important with this product.
---
How To Take Das Lab's Heat Hardcore:
The manufacturers recommend mixing one (1) serving (one scoop) into water. They also indicate Heat Hardcore should not be taken within six hours of intended sleep to avoid sleepiness.
---
Heat Hardcore Review By Andrew: "I love this stuff! It's the best thermogenic for me."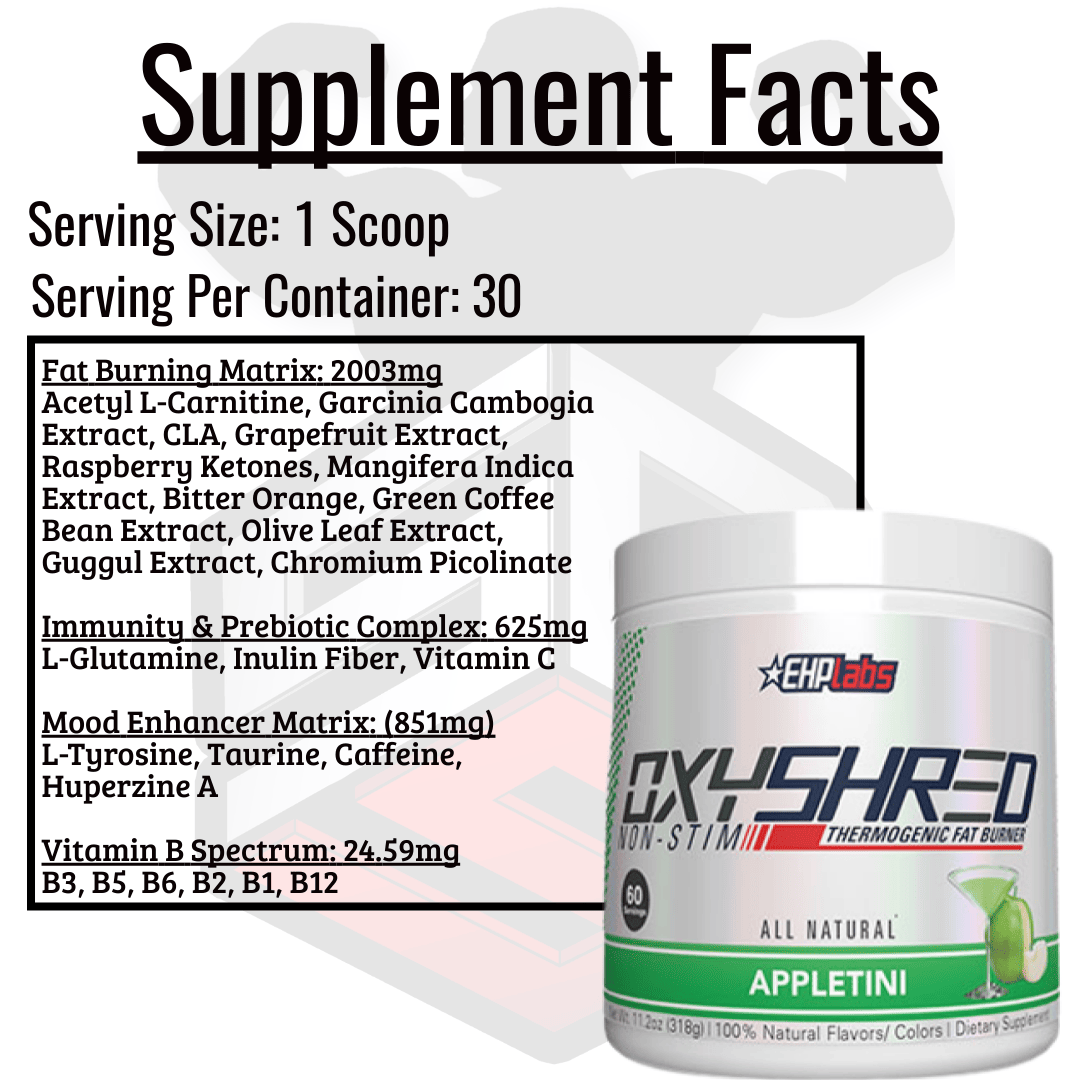 Our last product comparison is with OxyShred from EHP Lab's. 
| | |
| --- | --- |
| Price Per Serving (USD): | $1.00 |
| Shared Ingredients: | Acetyl L-Carnitine, Raspberry Ketones, Green Coffee Bean Extract, Olive Leaf Extract, Taurine, Caffeine, Vitamin C, B12, B5, Chromium Picolinate |
| Different Ingredients: | Garcinia Cambogia Extract, CLA, Grapefruit Extract, Mangifera Indica Extract, Bitter Orange, Guggul Extract, L-Glutamine, Inulin Fiber, L-Tyrosine, Huperzine A, B3, B6, B2, B1 |
Like The Ripper, OxyShred's ingredients are broken into different blends. However, compared to The Ripper, OxyShred features a more complete formula for weight loss. While these products share the most ingredients, OxyShred offers more of what we want from a fat burner. These properties include enhanced appetite suppression, increased metabolism/thermogenesis, and improved energy/focus. Similar to Raze Heat and Heat Hardcore, OxyShred does not feature ingredients for improving performance or endurance. So this product is better for individuals looking for just a fat burner, though you can take it before the gym to sweat more.
---
How To Take EHP Lab's OxyShred:
The manufacturers recommend take one (1) scoop in the morning on training days 10oz (295ml) of cold water. Then to take another scoop 10 minutes before exercise. However, on non-training days, take one (1) scoop with 10oz (295ml) of cold water first thing in the morning on an empty stomach. EHP Lab's also indicates users should avoid eating other foods or drinking a protein shake within 20 minutes after consuming OxyShred Thermogenic Fat Burner.
---
OxyShred Review By Walter: "I use this as a pre-workout and it's great, tastes amazing and gets me through the workout without tiring"
Which Should You Try:
Now that we've gone through the similar products, it's time to decide which is better for you and your goals. However, please keep in mind individual results will vary.
The Ripper is a simple fat burner/pre workout for individuals with a low-mid tolerance to stims. While The Ripper features performance ingredients like Beta Alanine, the dosage is likely lower than the clinical dose range. This is okay for someone not used to the paranesthesia. However, more advanced pre workout users may be disappointed.†
---
LFG Burn is a great option if you're cutting or like to sweat. Unlike their fat burner powder Heat Hardcore, LFG Burn also features classic performance ingredients to get the best of both worlds without sacrificing energy.†
---
Raze Heat is the only non-stimulant powder fat burner in our list, making it a great option to stack with. Or for individual a very low tolerance to stimulants.†
---
Heat Hardcore is similar to LFG Burn in energy, but is a better option to utilize more of a diuretic/appetite suppressant formula. Therefore if you're looking for a high stim-powder fat burner, not a pre workout, this could work for you.†
---
Finally, we have OxyShred from EHP Labs. This powder fat burner features a stacked formula to cover your basis in fat burning, digestion support, and energy/mood/focus. According the EHP Labs, each serving of OxyShred has around 150mg of Caffeine. Making this a good option for individuals with low-mid stimulant tolerances. If you're looking for more stims, you can try OxyShred Hardcore, which features around 250mg of stims.†
The Ripper Reviews:
Review By Abby: "I love this product! It tastes great and works well as a fat burner and pre workout."
---
Review By Alex: "It has a very yummy taste. Its great for energy I like to use it like a pre workout. Definitely helps with sweating more."
Wrapping Up:
And this marks the end of our post on The Ripper Fat Burner. Thank you for reading! And as always, if there was something that wasn't clear, another question you might have, or if you have another idea for a blog, Email Us!
Are you looking for more to read? Check out some of our other blogs!
Warnings And Side Effects:
Always assess your tolerance with a single scoop. This product is only intended to be consumed by healthy adults 18 years of age or older.
Not for use by:
Those with pre-existing medical conditions

Those taking any medications

Young children under the age of 18

Pregnant or lactating women

Individuals sensitive to caffeine or beta alanine
Discontinue use and consult your health care professional if you experience any adverse reaction to this product. Do not consume with caffeine, alcohol, or stimulants from other sources. To avoid sleeplessness do not consume within 4 hours of bedtime. You may experience harmless short term skin tingles.
Produced in a facility that processes milk and soy ingredients. Do not use if safety seal is broken or missing. Store in a cool, dry place. Contents sold by weight not volume. Keep out of reach of children.
This product may contain ingredients that are banned by some sports organizations and/or increase risk of false positive on a drug test. Please consult with your sport organization or physician before taking this product.
Disclaimer:
†PLEASE NOTE: The intention of the information provided is for reference only. Furthermore, we are in no way providing medical advice or instruction. Instead, the information provided in this guide/blog utilizes anecdotal information and available studies/reviews. While our goal is to maintain and display accurate information, we can't guarantee it represents the latest formulation of the product or information. Therefore, please visit the manufacturer's website if you have any concerns. Also, the information above does not represent our views here at Same Day Supplements. Instead, these are the views and information provided by the manufacturers and users. Additionally, the Food and Drug Administration has not evaluated these statements. Finally, the intention of these products is not to diagnose, treat, cure or prevent any disease or illness.
The post The Ripper Fat Burner by Cobra Labs Review And Comparisons 2022 appeared first on Supplement Reviews Blog.